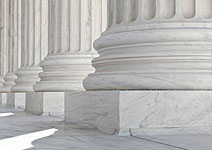 Using HPS allows your staff to focus on their jobs at hand while we handle all of your legal support services. We take pride in completing the work we're assigned to do, the way it should be done, the first time you ask. In addition, we process our reporting and accounting functions in-house and we can tell you exactly how, where, and for whom each service is being performed, and its cost.
In business since 1976, the original 2-person office in Eastern Jackson County, MO has grown into a full-scale operation with 33 convenient locations dedicated to professional process server and private investigation services. We strive to maintain the highest standards of integrity, discretion, confidentiality and security. HPS associates are dedicated, full-time professionals who take pride in their work and your success.
Our phones are answered 24 hours a day/seven days a week, while all job orders are tracked through our reliable computer system, providing you with up-to-the-minute status reports on all of your assignments. HPS operates on the "continuous improvement motto" and we know you will discover this unmistakable attitude each and every time you deal with our office.
Allow our staff to:
Handle Local, Statewide and Nationwide Legal Service of Process
Provide Expedited Service
Calculate and Advance Witness Fee Checks
Offer Courthouse, Corporate and Personal Courier Deliveries
Help with Courthouse Filings and Document Retrievals
Provide Nationwide Mobile Notary Service
Set your office up to receive Automatic Email Job Status Updates
Offer No Charge Password Online Access to Job History, Invoices and Affadavits
Most importantly, HPS is a trusted, professional organization. Unlike some companies that simply operate with a mobile phone and a car, we offer a dedicated full-time staff, located in an accessible office setting. We take our careers seriously and your projects are our first priority.
https://www.hpsprocess.com/wp-content/uploads/2016/10/HPS-website-logo-300x151.png
0
0
HPSAdmin
https://www.hpsprocess.com/wp-content/uploads/2016/10/HPS-website-logo-300x151.png
HPSAdmin
2011-09-14 18:35:57
2017-05-10 14:52:44
Courts